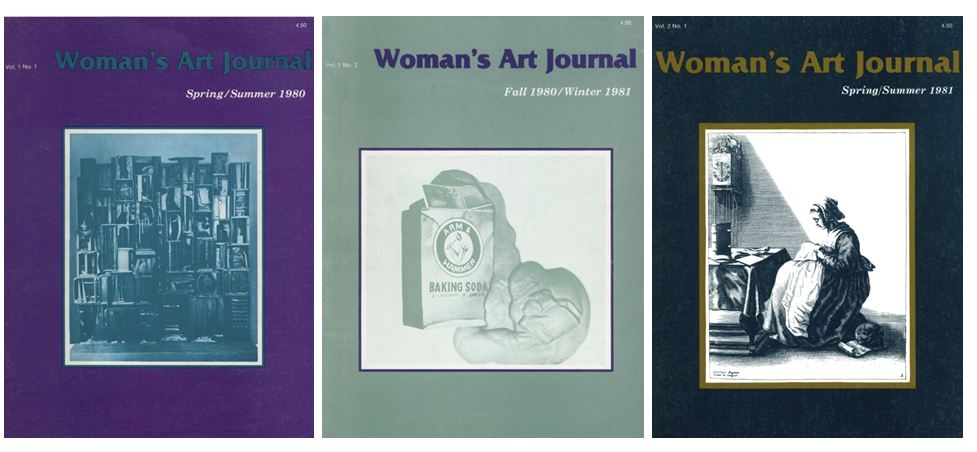 The Woman's Art Journal was founded in 1980 by the feminist scholar Dr. Elsa Honig Fine. As editor and publisher of WAJ, Fine directed every aspect of the pioneering journal, working in editorial partnership with fellow feminist art historian Margaret Barlow. WAJ's first issue presented the journal's mission to serve as a repository for scholarly research conducted "in the interest of recovering a lost heritage, or to review the growing body of literature on women artists." The journal was to provide a "vehicle for the exchange of ideas and for honest criticism" within an academic and curatorial environment that was consistently receptive to scholarship on women.
Fine had already authored The Afro-American Artist: A Search for Identity (Holt, Rinehart & Winston, 1973) and Women and Art: A History of Women Painters and Sculptors from the Renaissance to the 20th Century (Abner Schram, 1978), groundbreaking and much-reprinted textbooks used in early African American Studies and Women's Studies courses. Women and Art surveyed the achievements of nearly one hundred women artists, providing social, cultural, and art-historical contexts and making particular reference to women's education, roles, and biographies.
From its inception, WAJ proved vital to the academic community, offering one of few venues in which scholars could publish and consult the burgeoning body of research on women artists. In 1989–90, the journal celebrated its tenth anniversary with an exhibition entitled American Women Artists: The 20th Century at the Knoxville Museum of Art in Tennessee and at the Queensborough Community College Art Gallery in Bayside, New York.
Barlow, Fine's editorial collaborator, published Women Artists with Hugh Lauter Levin in 1998. Peppered with journal entries, letters, autobiographical excerpts, and over three hundred illustrations, the significant volume highlighted the careers of woman artists through the ages, including Judith Leyster, Angelica Kauffmann, Elisabeth-Louise Vigée-Lebrun, Emily Mary Osborn, Lilly Martin Spencer, Mary Cassatt, Camille Claudel, Paula Modersohn-Becker, Käthe Kollwitz, Georgia O'Keeffe, Frida Kahlo, Dorothea Tanning, Judy Chicago, and many others.
When Fine retired from the journal in 2006, Rutgers University professor Dr. Joan Marter spearheaded WAJ's transition to the joint sponsorship of Rutgers and Old City Publishing. Marter and Barlow served as co-editors until 2021, with Dr. Ute Tellini coming on as book reviews editor.
Dr. Aliza Edelman joined WAJ as book reviews editor when Tellini retired in 2018. Upon Barlow's retirement from editorial duties in 2021, Edelman was promoted to co-editor with Marter, with Dr. Alison Poe assuming the role of book reviews editor. After 43 years of continuous publication, Woman's Art Journal remains a premiere source for high-quality feminist art history scholarship.
More documents, correspondence, and other materials related to the founding and publishing of WAJ can be found in the Elsa Honig Fine papers in the Special Collections of the Rutgers University Libraries at Rutgers—New Brunswick.