Co-Editors-in-Chief
Joan Marter and Aliza Edelman
email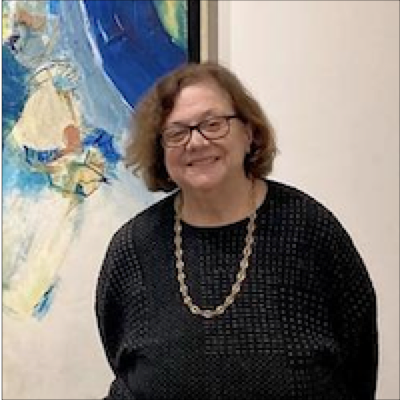 Co-editor Joan M. Marter is Distinguished Professor Emerita at Rutgers University. A recipient of numerous prestigious honors, including a Lifetime Achievement Award from the National Women's Caucus for Art and a Distinguished Feminist Award from the College Art Association, Marter has edited and contributed to many critically acclaimed artist monographs, exhibition catalogues, and volumes, including the Grove Encyclopedia of American Art; Women of Abstract Expressionism (Yale Univ. Press/Denver Art Museum, 2016); Action, Gesture, Paint: Women Artists of Global Abstraction, 1940–1970 (Whitechapel, 2023); and Abstract Expressionists: The Women (Merrell, 2023).
Co-editor Aliza Rachel Edelman holds a B.A. from Smith College and Ph.D. from Rutgers University.
Her research interests span the modern Americas and the Middle East, with an emphasis on the art of the post-war United States and Brazil, the transnational histories of abstraction and concretism, and gender and sexuality in a global context. A regular contributor to WAJ, her scholarly work is published in international catalogues and volumes, including Judith Lauand: Desvio Concreto (Masp, 2022); Transnational Belonging and Female Agency in the Arts (Bloomsbury, 2022); Purity is a Myth: Materiality in Concrete Art in Argentina, Brazil, and Uruguay (Getty Research Institute, 2021); and American Women Artists, 1935–1970—Gender, Culture, and Politics (Routledge, 2016).
Book Reviews Editor
Alison Poe
email
Book reviews editor Alison Poe holds a Ph.D. in Art History from Rutgers. Her research focuses on late antique iconography and the reception of Greek and Roman antiquity in a variety of visual and material-culture contexts, including contemporary fashion, modern sculpture (with WAJ co-editor-in-chief Aliza Edelman), and illustrated children's compendia of myth. She co-edited the collected volume Receptions of Antiquity, Constructions of Gender in European Art, 1300-1600 (Brill, 2015) with Marice Rose. She has taught ancient and medieval art history at Rutgers and Drew University in person and for Fairfield University online.
Editorial Offices
Woman's Art Journal
Rutgers University
Department of Art History
Vorhees Hall
71 Hamilton Street
New Brunswick, NJ 08901
USA
P) 347-645-4647