The latest issue of Woman's Art Journal, volume 43 issue 2 (Fall/Winter 2022), is now available.
Woman's Art Journal is delighted to publish our current issue celebrating the careers of women artists from the early to mid-twentieth century who have received limited recognition for their achievements in muralism, abstract painting, applied arts, and design. The journal proudly draws international attention to a younger generation of Canadian contemporary artists, whose distinct artistic strategies similarly utilize a wide range of materials in textile and fiber arts in addition to painting and sculpture, and introduces our readers to critical art historical studies grounded in intersectional feminism and race.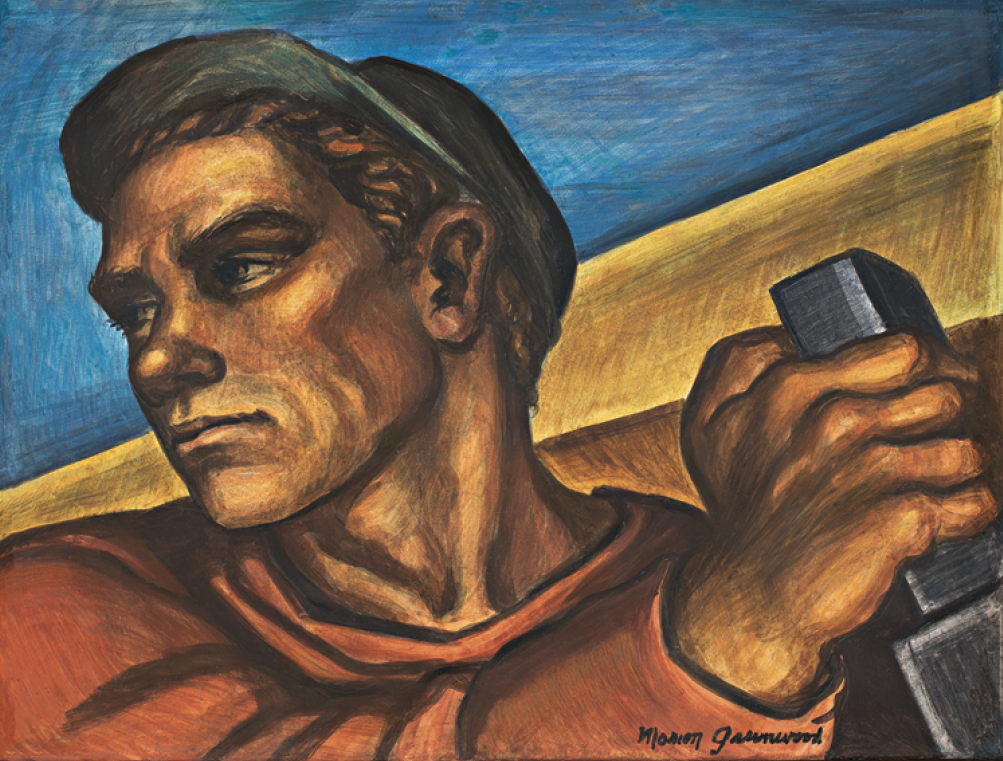 Our feature article by Elizabeth Frasco brings deserved recognition to Marion and Grace Greenwood, Lucienne Bloch, and Ione Robinson, resourceful and ambitious artists of the 1930s who answered the "Walls Call" of the New Deal era by mastering true fresco mural painting. They garnered unique opportunities for travel to Mexico City and cultivated transnational relationships while practicing under the guidance of renowned Mexican muralists; subsequently, they brought their impressive skills to the public mural programs in New York City, securing important commissions under the Federal Art Project's Works Progress Administration. The Greenwood sisters' determination to learn fresco technique led them to provincial cities such as Morelia and Taxco, where, between 1933 and 1936, they painted five separate murals between them, earning considerable acclaim for their aesthetic visualization of Indigenous and post-revolutionary sensibilities. Upon her return to the US, Marion Greenwood completed highly accomplished murals for the Red Hook Housing Project in Brooklyn, NY. Lucienne Bloch followed a similar trajectory, making a strong feminist statement in her representation of mothers and children with her mural the Cycle of a Woman's Life (1935–36; see front cover).
Alice Trumbull Mason is another pioneer of the 1930s with a different goal: the promotion of abstract art. Abstraction was viewed in opposition to Surrealism or the figurative populism of mural paintings. Mason was one of the most dedicated founding members of the American Abstract Artists (AAA) group. Unlike similar artist groups dominated by men, AAA was ready to acknowledge the leadership of women. In fact, artist and fellow AAA member Ibram Lassaw eagerly explained to Joan Marter that women were viewed as essential to its organization. Mason's own essay in the AAA 1938 yearbook indicates her determination to promote abstract painting and sculpture. Notably, AAA is still in existence and periodically arranges group shows. The essay by Barbara Stehle explores the relatively unknown later works of Mason, painted after she had met Piet Mondrian. Mason's Shutter paintings, replete with juxtaposed narrow bands of color, owe some indebtedness to Mondrian, whose art Mason deeply admired, but also reveal her concept of "Bearings" and displacement, anticipating the hard-edge compositions of the Minimalists in the 1960s.
Roni Feinstein's retrospective essay on Mila Gokhman, a self-taught multidisciplinary artist born in Kyiv in 1934, unveils the artist's tremendous spirit and fortitude in the face of censorship and religious persecution under the Soviet Union. Gokhman's unique manipulation of leather, a precious and scarce material in the post-World War II Soviet era, led to the creation of spatially complex, abstractly woven panels that explore her reverence for nature, landscapes, and music. Feinstein untangles Gokhman's complex biographical web through the use of archives and photographs of exhibitions and installations, including her participation in Ukrainian fashion houses, and interviews with the artist herself, now residing in Stanton, California.

Julia Skelly concludes our articles with a critical discussion of the recent artworks by Elisabeth Perrault and Oreka James, both Canadian, who, in 2021, showed in simultaneous exhibitions at a contemporary art gallery in Montreal. Skelly carefully constructs a dialogue between these distinct emerging artists through an interpretation of skin as both "a resilient and a vulnerable canvas," a feminist reading that opens spaces for marginalized and vulnerable individuals, joy and jouissance, and agency.
The excellent book reviews section, organized and edited by Alison Poe, offers a capacious understanding of women's artistic endeavors throughout modern history for professionalization, endorsement, and status. Colleen Denney's analysis elevates a discussion on gender inequities in the late Victorian and Edwardian period, the "hustle and scramble" endured by women who sold their art, and the demands placed on them by the so-called "art market." The perseverance of Spanish sculptor Luisa Roldán is examined by Liya Okroshidze in a welcomed volume from a new Getty series dedicated to women artists. Sarah Ross casts light upon a study of early modern women artists in sixteenth, seventeenth-, and eighteenth-century Italy, an inclusive exhibition catalogue that builds upon the scholarship of Artemisia Gentileschi.
Addressing a book that takes to task the myths, archetypes, and canons that gave rise to the imagery and patriarchal structures throughout much of Western civilization, Kimberly Lamm's review underscores the broader purposes of feminism in today's world. The recent retrospective catalogue on Joan Semmel (Pennsylvania Academy of Fine Arts, Philadelphia) is explored by Tanya Augsburg, who deconstructs the subversive, painterly strategies deployed by the artist that harness the sheer sanctity of her own naked body, strategies intended to resist the viewers' objectifying gaze. Suzanne Valadon's revolutionary approach to painting the nude in the early twentieth century, and the impact of her modeling métier on her artistic practice, is one of the many topics tackled by Emie Diamond in her discussion of the artist's exhibition catalogue at the Barnes Foundation. Gabrielle Stecher expands the geographical and narrative histories of women in the annals of Abstract Expressionism in her coverage of two volumes on art of the 1950s, one focused on the American Midwest, the other, by Griselda Pollock, on New York painting. By contrast, Ella Nixon turns to the "simple pleasures" of Doris Lee's figurative scenes, rooted in American folklore and agricultural life; in 1935, Lee was also selected by the Department of the Treasury to paint murals for the main post office in Washington, D.C., a project supported by the WPA. Maria Elena Buszek brings a global perspective to a wide-ranging volume, Pop Art and Beyond: Gender, race, and Class in the Global Sixties, foregrounding the recent queer, feminist, and postcolonial scholarship representing this period's marginalized voices.
Joan Marter and Aliza Edelman
Editors, Woman's Art Journal
Institutional subscribers can access this issue by clicking here. The issue is available for purchase in print and digital (PDF) format. To subscribe to WAJ, click here.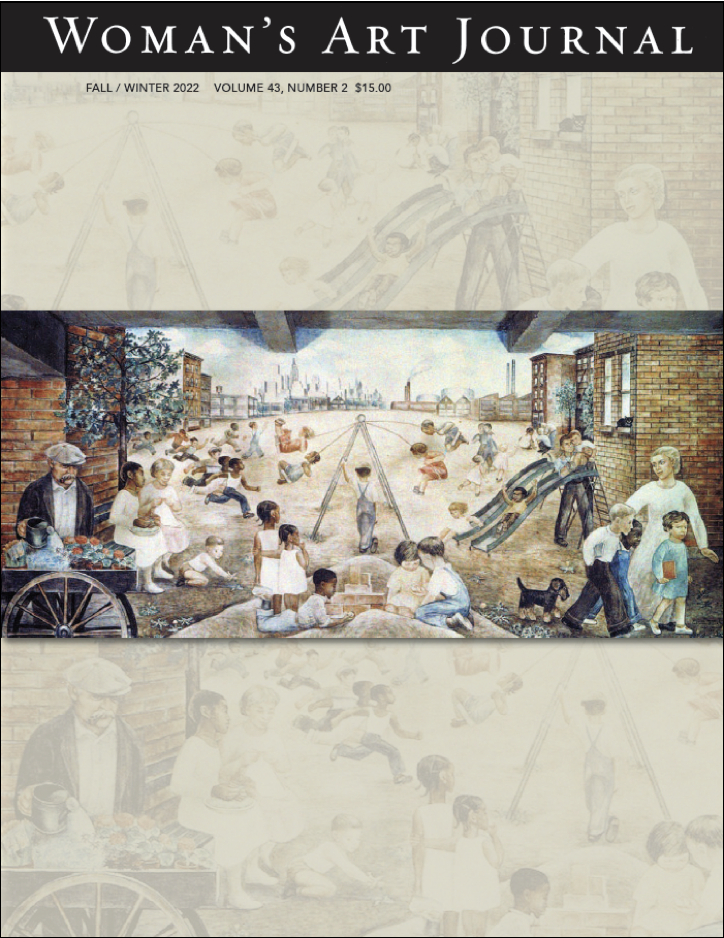 p. 2
Parallel Perspectives
By Joan Marter and Aliza Edelman
p. 3-47
Portraits, Issues and Insights
p. 3
Walls Call: Women Artists of The NYC WPA In Mexico, 1929–1936
By Elizabeth Frasco
p. 17
Thresholds of Modernism: Alice Trumbull Mason's Shutter Paintings
By Barbara Stehle
p. 28
Spirit Lives Wherever It Chooses: The Art of Mila Gokhman
By Roni Feinstein
p. 39
Softening the Blow: Skin, Domestic Violence, and Protection in Works by Elisabeth Perrault and Oreka James
By Julia Skelly
p. 48-69
Reviews
p. 48
Women in the Picture: What Culture Does with Female Bodies By Catherine McCormack
Reviewed by Kimberly Lamm
p. 51
Joan Semmel: Skin in the Game Edited By Jodi Throckmorton
Reviewed by Tanya Augsburg
p. 54
Pop Art and Beyond: Gender, Race, and Class in the Global Sixties Edited by Mona Hadler and Kalliopi Minioudaki
Reviewed by Maria Elena Buszek
p. 56
Killing Men & Dying Women: Imagining Difference in 1950s New York Painting By Griselda Pollock; Three Women Artists: Expanding Abstract Expressionism in the American West By Amy Von Lintel and Bonnie Roos
Reviewed by Gabrielle Stecher
p. 59
Simple Pleasures: The Art of Doris Lee By Melissa Wolfe, John Fagg, Tom Wolf, and Barbara L. Jones
Reviewed by Ella Nixon
p. 61
Suzanne Valadon: Model, Painter, Rebel Edited by Nancy Ireson
Reviewed by Emie Diamond
p. 63
Women, Art and Money in Late Victorian and Edwardian England: The Hustle and the Scramble By Maria Quirk
Reviewed by Colleen Denney
p. 65
Luisa Roldán By Catherine Hall-van den Elsen
Reviewed by Liya Okroshidze
p. 67
By Her Hand: Artemisia Gentileschi and Women Artists in Italy, 1500–1800 Edited by Eve Straussman-Pflanzer and Oliver Tostmann
Reviewed by Sarah Gwyneth Ross
Color Plates